The Saints of the Confederation of the Canons Regular of Saint Augustine
JANUARY
3 - Blessed Alan de Solminihac, bishop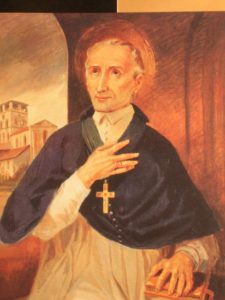 In 1593 Alanus was born into an aristocratic family in castle Belet near Perigueux in France.
While still a young man he became the abbot of Chancelade, which had been fallen into disrepair as a result of the turmoil of the times.  He was ordained priest in 1618 and consecrated abbot in 1623.  He strove with great effort and effect to reform his brothers in the Congregation of the Canons Regular of Chancelade.
In 1636 he became bishop of Cahors.  He was as a zealous shepherd of the flock with which he was entrusted.  As a bishop, he faithfully followed the decrees of the Council of Trent and sought to model himself on St. Charles Borromeo.  His reform work not only blessed his diocese but influenced other parts of France.
Moreover, he remained always faithful to the Holy See.  Misconceptions, which surrounded him, were resolved in his favor.  His convincing love of neighbor made him a brilliant light of faith in 17th Century France.  After a long and strenuous life he died on December 31, 1659.
8 - Saint Lawrence Justinian, bishop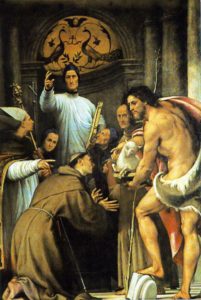 Laurentius was born in 1381 in Venice to a noble family.  His father died while he was still a boy and his mother dedicated herself to the care of her many children.  As a child Laurentius cultivated the ascetical life.  At the urging of his uncle, who was a priest, he joined the fledging community of Canons of San Giorgio of Alga, rather than embrace the wealth and privilege that would have come to a young man of his position.  Two years after his ordination, he and his community became canons regular of St. Augustine.  As a preacher and prior, he consistently focused on the virtue of humility.
Pope Eugene IV, who a fellow canon of San Giorgio of Alga, named him bishop of Castello.  Though bishop, he maintained the disciplines of religious life and attended to the needs of the poor.  He was careful to assist the poor with what they need — food and clothing — rather than cash, which would be tempting to misuse.  He arrived to a ruined diocese and left it as a model of peace and good administration.  Pope Nicholas V transferred the title of Patriarchate from the city of Grado to Venice and appointed Laurentius archbishop, which he governed with moderation and good sense for the last four years of his life.
He died in 1455 in Venice.
In addition to his legacy of sanctity, charity and humility, he left a number of books including The Chaste and Spiritual Marriage of the Word and the Soul, The Bouquet of Love and The Fire of Divine Love, all works that treated the love of God in prayer and were inspired by his canonical forebear, Richard of St. Victor, and the Devotio Moderna.
9 - Blessed Alexia Le Clerc, virgin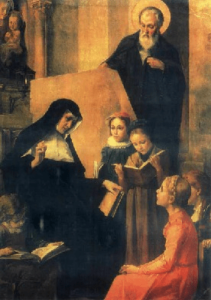 Born at Remiremont in Lorraine on February 2, 1576, as a young woman she embraced her call from God to found a new religious community.  She was a mystic and received inspiration for her mission in the form of dreams and visions.  In one such dream she heard Our Lady say "Take this child and make Him grow."  Educating children thereby became a way of serving Christ Himself.
She was likewise encouraged in her mission by reforming canon regular, St. Peter Fourier, with whom she became acquainted at the age of 19.  She worked in accord with God's plan and thereupon attracted other women who likewise sought the common life of canonesses.  Therefore, on Christmas night 1597 in the parish church of Mattaincourt, where St. Peter Fourier was pastor, Bl. Alixia and five other women consecrated themselves to Our Lady, thereupon founding the the Congregation of Our Lady, the Canonesses of St. Augustine.
From these humble beginning the new congregation spread throughout France.  As their numbers grew, numerous new convents and schools were established.  No only did the Bl. Alixia work tirelessly to build up this teaching congregation, she also visited the poor and sick.  As a faithful servant she went to the Lord on January 9, 1622 when she died at Nancy, leaving behind on earth a wonderful legacy of holiness and religious life that continues to this day in various daughter congregations.
12 - Saint Martin of Leon, priest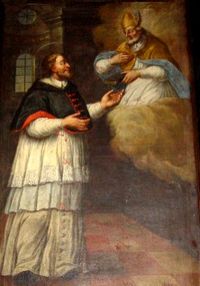 Born in Leon, Spain in 1130, he suffered early the loss of his mother.
He and his father, John, withdrew from the world to the canonry of St. Marcellinus in Leon.
After the death of his father, Martin decided to undertake a major pilgrimage.  Upon returning home, he entered the community of St. Marcellinus and was later ordained priest.
However things did not work out there and he went on to endow a second canonry in the church where centuries earlier St. Isidore had been ordained and later was known as the canonry of St. Isidore.
He distinguished himself by his zealous observance, his fraternal charity and his deep devotion to the Blessed Sacrament.
He wrote many tracts, above all on the Holy Scriptures.
He died on January 12, 1203 in Leon.
FEBRUARY
4 - Saint Gilbert, priest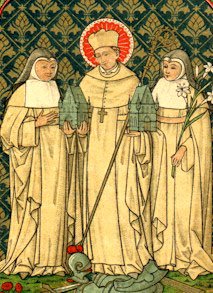 Gilbert was born in Sempringham, England to a Norman father and an English mother.  Showing little in following his father in his military career, he was sent to the Continent to receive an education and returned to England thereafter to dedicate himself to the education of youth.
He did this for a number of years as a layman.  He impressed the bishop of Lincoln and was eventually ordained.  After he priestly ordination, he founded a community in 1130 in place of his birth.  It was a double cloister in which the nuns lived according to the Rule of St. Benedict, the lay brothers according to the Statutes of the Cistercians and the canons according to the Rule of St. Augustine.  The mission of the canons was primarily the pastoral care of the nuns and lay brothers.
In 1147 Gilbert traveled to Citeaux, hoping to join his community to the Cistercians.  He was refused.  Rather Eugene III approved his constitutions and sent him back to England to lead his community.  These religious, who later became the Gilbertines, were at one time found all over England.  Besides these double cloisters, Gilbert also founded solitary foundations of canons regular, to which he himself continued to belong.  Gilbert found himself in some trouble for supporting St. Thomas a Beckett against the king.  Thereafter he endured the accusations of two lay brothers who defamed him and accused him of mismanagement.  After the resolution of this crisis, Gilbert was left to spend his remains years in peace, visiting the houses of his flourishing order.  He was friends with St. Bernard of Clairvaux and was renowned for his humility, prudence, zealous observance and love of the poor.  When he died on February 4, 1189, he was over 100 years old!
7 - Saint Guarino (or Guarinus), bishop
Around 1080 in Bologna Guarinus was born to noble parents.
He became — against the wishes of his parents — a cleric as a young man.  His yearning for a life of perfection led him to abandon the secular priest in favor of that of canon regular.  He thereupon entered the Canons Regular of the Holy Cross at Mortara.
As a result of his exemplary life as a canon, he was chosen to be bishop of Pavia.  However he had no desire to accept that office.  So he hid himself until another was chosen for that office.
A second time this happen and he likewise escaped the episcopate only to be named cardinal-archbishop of Palestrina by Pope Lucius II, a fellow Bolognian.  His new position brought him great wealth, which he proceeded to distribute to the poor.
His charity made him even more renown and when he died in 1159, he was a much loved by his priests and people alike.
9 - Blessed Anne Catherine Emmerich, virgin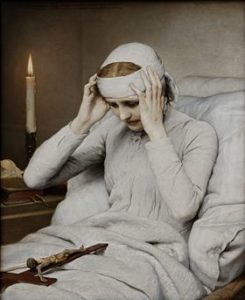 Anna Katharina Emmerick (sometimes written Emmerich) was born on September 8, 1774 into a family of modest farmers. As a child, she was already very attached to the Church and imagined the stories of the Bible as if she herself was living them. She attended school for only four months. At the age of 13, she became a servant and then trained as a seamstress and worked in the area around Coesfeld, before making the decision to enter the Augustinian cloister in Dülmen in 1802.
During the time she spent in the convent, she was frequently ill. When the convent was secularized in December 1811, she became the housekeeper of Abbé Lambert, a priest who had fled France. She soon became so sick that she could no longer leave the house. She claimed to have received the stigmata and, over the next twelve years, endured the Passion of Jesus every Friday. According to her account, her visions represented events in the history of creation and salvation. This attracted the attention of secular and religious authorities and an inquiry was made. Many people, including personalities, came to her sickbed to seek comfort and consolation.
At that time, she accomplished a miracle. A nun suffering from a severe case of tuberculosis of the lungs and larynx asked Anna Katharina to intercede with God and was healed in an inexplicable manner. She also had visions of the tomb of Adam and Eve.
Between 1816 and 1824, the poet Clemens Brentano, recorded her visions at her bedside. His transcripts fill 40 folio books. It is difficult to distinguish what was actually said by the German mystic and what might constitute a re-elaboration of the poet. Brentano describes in detail the scenes and narratives (primarily) of the New Testament and Mary's life. Mel Gibson used the visions of the Way of the Cross in his film The Passion of the Christ.
Following the visions of Anna Katharina, the burial place and the house of the Virgin Mary were rediscovered in 1881 by Father Julien Gouyet on a hill near Ephesus.
The remains of Anna Catherine Emmerick are located in the crypt of the Holy Cross Church in Dülmen
The first Beatification process was suspended in 1927, primarily because it was difficult to judge the authenticity of Brentano's texts, but it was reopened in 1973 and ended on October 3, 2004 with her Beatification by Pope John Paul II. The stigmata are not mentioned, however.
The feast of Anna Katharina Emmerick in celebrated on February 9th, the day of her death.
18 - Saint Theotonius, priest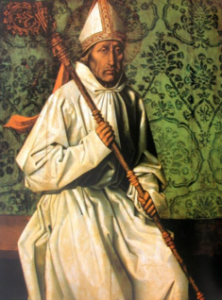 Born in Ganfey, Portugal, he was brought up with devotion, educated by the clergy including his uncle, Cresconius, the bishop of Coimbra and became a priest.  He was a renowned preacher, attracting the attention of not only his town but the king and queen as well.  He was deeply devoted to the holy souls in Purgatory for which he would say Mass every Friday followed by a procession to the cemetery.  Alms were collected as part of this weekly work of mercy and they were distributed to the poor.  A courageous preacher, he once preached a homily against the immorality of cohabitation in the presence of the widowed queen and the count with whom she was living.  On another occasion when the same queen told him to shorten the Mass, he replied that the Mass is offered for a sovereign greater than she.  Therefore she could stay or go, but the length of the Mass would remain unchanged.  Happily the queen eventually repented of her sin.
On account of his burning desire to see the holy city of Jerusalem, he twice made the arduous pilgrimage.  Upon his return from his second pilgrim he helped to found the Canons Regular of the Holy Cross in Coimbra and served as the first prior.  Under his leadership the canons were known for the reverent and careful celebration of the Divine Office.  St. Theotonius was also held is high regard by King Alphonsus Henriques, who credited his prayers for the liberation of Portugal from the Moors.  In return, St. Thoetonius secured the freedom of the Mozarabic Christians whom the King held as prisoners.   St. Bernard of Clairvaux revered this holy canon greatly.  When he died at the age of 80 in 1166, he was thirty years a canon regular and had finished his time as abbot of the monastery of the Holy Cross.
MARCH
6 - Blessed Ollegarus, bishop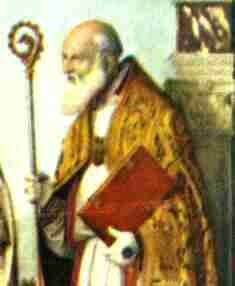 Born in 1060 in Barcelona, Catalonia, he was received into the canons regular as a young man.  Actually he was given to the canons by his parents, who endowed the community with property, as a Puer.  This was a typical practice of the time whereby boys were raised by religious communities and later joined them. At the age of 15 he became provost, though was in no sense obliged to be a canons.  But Ollegarusius was a young man of integrity and accepted his appointment with zeal and humility.  He therefore embraced the priesthood and the canonical life.
After his priestly ordination he became the next provost of the monastery of St. Adrien in neighboring France, where the bishop of Bareclona had recently introduced canons regular.  A few year later he was elected to lead the Canons Regular of St. Ruf  as abbot of St. Ruf.  He governed with prudence and holiness and found joy in his life.  However, upon a visit to Barcelona he learned of Count Raymund's plan to appoint him as the next bishop in that city.  He fled to St. Ruf, but was not able to resist the will of the Holy Father.
Though reluctant, he undertook his new office as bishop in Barcelona and administrator of the diocese of Tarragona with enthusiasm.  In this office he restored church discipline or strengthened it.  He aided the poor and settled disputes, bringing peace and harmony.  In the Pierleone schism he remained a firm supporter of the Pope.  Exhausted by his numberless troubles, he finally found rest in the Lord in 1137 when he died in Barcelona.
29 - Saint William Tempier, bishop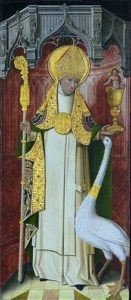 As a young man Willian entered the Augustinian canons where he practiced the life of virtue such that he was called to lead the canonry of St. Hilary in Poitiers.
At the request of the clergy and people alike he was chosen to be the bishop of Poitiers in 1184.
He shepherded his flock by his powerful word and stirring example and strove to defend the rights of the Church which were under frequent attack.
He died on March 29, 1197.
APRIL
5 - Saint Catalina Thomas, virgin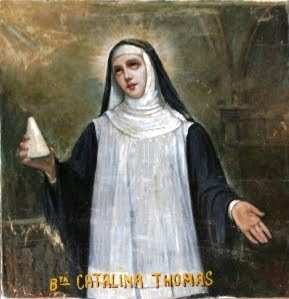 Born at Valdemuzza on the Mediterranean island of Majorca on May 1, 1531, she grew up in unhappy circumstances in his paternal uncle's household.
She entered into serve at the convent of St. Mary Magdalen of the Augustinian canonesses in Palma and eventually joined the community.
It was not long before her sanctity became evident.  She was a shining example to her fellow sisters, especially with respect to her humility.
As a a mystic, she experienced many unusual phenomena, some consoling, some terrifying.  Yet she did triumphed over many interior struggles and continued to execute the duties of her station in life.
He entire life was consecrated to prayer, work and mortification.
She died a holy death on April 5, 1574.
6 - Saint William of Ebbelholt, abbot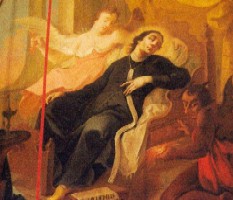 William was born in Paris and educated by the monks of Saint-Germain-des-Pres.  From there he was received by thechapter of secular canons of St. Geneviève. This was already a venerable college of canons, having been founded by King Clovis and St. Choltide in the 6th Century!  But it had grown decadent and in great need of reform.  Indeed the canons were so hostile to William and his disciplined way of life that he had to leave the canonry and relocate to Epinay, outside of Paris.  Providentially Pope Eugene III visited the abbey in 1148, discovering its poor state.  So the reform of St. Genevieve was entrusted to the Canons Regular of St. Victor, who were a relatively new canonical house on the outskirts of Paris, being founded only a few decades earlier.  The prior of St. Victor, Odo, came to St. Genevieve and William returned to the community as sub-prior.  Together they overcame their opposition and won the community over to the reform.
Shortly thereafter, Bishop Absalon of Roskild, who had been a student at St. Genevieve, called William to Denmark to reform the abbey of Ebbelholton the island of Eskilso.  William accepted this difficult task and became abbot.  There was great resistance to William, but he was prepare to meet it.  For thirty years William overcame every obstacle in order to achieve his goal.  He relied on prayer and mortification as well as his experience to succeed, which he did brilliantly.
Thanks to his efforts, Ebbelholt was reformed and another house of canons was founded.
He died in 1203, but the fraternal relations forged between St. Genevieve and these Danish foundations endured for generations to come.
9 - Saint Gaucherius, priest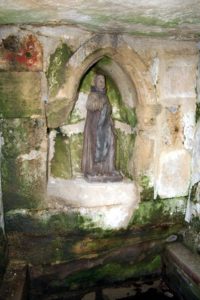 Born in Meulan-sur-Seine to the northwest of Paris, he received a classical education and became a priest.
However he felt a deep longing for solitude and a life more radically centered on God.  He thereupon devoted his life God as a hermit and began with his friend, Germond, to reside in the area of Limoges.  Alone and forgotten by the world, Gaucherius and Germond grew in holiness.
Their example attracted others who built hermitages near to theirs.  Finally Gaucherius decided to build a monastery at Aureil and to establish two communities, one for men, the other for women, both under the rule of St. Augustine.  The passage of an eremitical settlement into the canonical life was one of the principal ways through which the canons regular grew in the 11th and 12th Century.
The community of Aureil is typical of these kinds of Ordo Novus canons regular.  Thereafter he lived with his companions, being for all a model of sanctity.  His companions and disciples include St. Lambert of Angouleme and St. Faucherus as well as the founder of Grandmont monastery, St. Stephen Muret.
He died 80 years old in 1140 and was canonized in 1194.
26 - Blessed Bonifacius and Blessed Emericus, bishops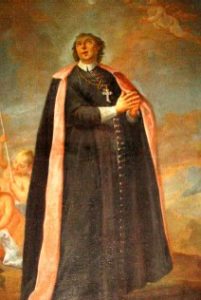 Bl. Bonifacius : He was born in Aosta in the 12th Century.  After completing his studies he entered the monastery of St. Benigno di Fruttuaria to become a Benedictine.  He decided to leave monastic life for the canonry of St. Orso whose community in 1210 would later elected him prior.  He brought great prosperity to the canonry which on account of his good work had became a favored object of lay patronage.  A man of virtue and piety, he was chosen to be bishop of Aosta in 1219.  He served for 24 years in this office, receiving generous lay support for his various charitable efforts.  Noted for his humility and administrative sense, he died a holy death in 1243.
Bl. Emericus: Born sometime in the middle of the the 13th Century in Quart in Piemonte, Emericus went to university to study theology.  After his studies he embraced the eremitical life for a number of years.  Then he joined the canons regular of the canonry of St. Orso in Aosta.  A dedicated canon, he was much admired by the bishop and others in Aosta, where he later became bishop and successor to Bl. Bonifacius.  He was an excellent and careful administrator ensuring the quality of the pastoral ministry exercised in his name.  He also held an important diocesan synod and is credited with the introduction of the feast of the Immaculate Conception in his diocese at this early date.  His influence went beyond his diocese to the entire Piemonte, where he was venerated for centuries after his death in 1313.
27 - Blessed Achard of Saint Victor, bishop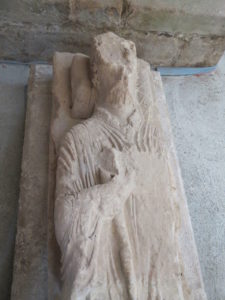 Born in England, Achard was attracted to the spiritual revival going on in France.  He went to join the Cistercians in Citeaux, but later left and entered the Canons Regular of St. Victor in Paris.  He joined the ranks of the pious scholars of the Victorines and authored treatises on the Holy Trinity and Our Lord Jesus Christ.
Achard succeeded Gilduin, one of the founders of the abbey and first abbot.  As the second abbot he inherited a flourishing abbey and school.
The latter was among the most important theological faculties in Europe at the time.  Later it, with the school of the canons of St. Genevieve and cathedral school of Notre-Dame would be the cradle of the University of Paris.
In 1161 he became the bishop of Avranches.  He wrote many spiritual treatises in which he set forth the way in which  the Christian soul might reach its highest perfection.
He died in 1171 in the abbey of La Lucerne, which he had founded.
30 - Saint Aldobrand, bishop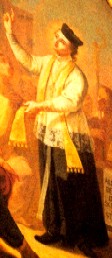 Born near Cesena in Emilia, Italy, he studied under the Canons  Regular of Santa Maria di Portu near Ravenna, who in those days were teaching the seven liberal arts.
Attracted to the canonical life, he entered the order there and became a priest.
He then went to Rimini to serve as provost.  Admired by the faithful for his genuine and persuasive preaching, he never feared to address the sins and injustices of his day.
In 1169 he was made bishop of Fossombrone, where he encouraged the faithful through his example and life of devotion as well as his articulate teaching of the deposit of faith.
Mild and generous to others, he was hard and strict with himself.  He died in 1219.
MAY
5 - Saint Stanislaus Kazimierczyk, priest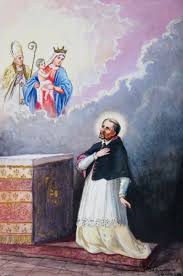 On September 27, 1455 Stanislaus was born in Kazimierz, which today is a district of the city of Krakow, in Poland.  At a young age he entered the Corpus Christi cloister of the Canons Regular of St. John Lateran.
In his desire for perfection he presented a compelling model of success.
After his priestly ordination he carried out a variety of tasks for the community.  As preacher and confessor he strove in an outstanding way to serve his brothers.
Moreover the faithful greatly sought after his pastoral care.  Filled with charity, he helped both the poor and the sick.  However he was most renown for his deep Eucharistic piety.
He died on May 3, 1489.
His memory has last all the way up to today.  His relics remain on display in an altar in the chapel of the Corpus Christi cloister.
Pope John Paul II gave his approbation to his cult and now he is honored as a blessed of the Catholic Church.
8 - Blessed Marie Catherine of St. Augustine, virgin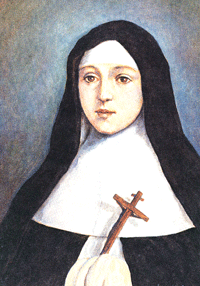 This holy canoness is called one of the founders of the Catholic Church in Canada.  Born Catherine de Longpre in France on May 3, 1632, she was baptized on the day of her birth due to her poor health.  From the age of two until she was twelve she was raised by her grandparents.  They were a holy couple by all accounts.  Her grandfather, Jean Jourdan, was her godfather and cultivated her desire for holiness.  Her grandmother, Renee Jourdan, taught Catherine to love the poor and the sick.  When Catherine's sister Francoise followed her call to the Hospital Canonesses of the Mercy of Jesus, Catherine persuaded her parents to let her go as well even though she was still just twelve and a half!  Later their grandmother Renee, after the death of Jean, joined her granddaughters in religious life.
She was received into the Order of Hospital Canonesses of the Mercy of Jesus in 1646.  Shortly thereafter in 1648 Sister Marie Catherine voyaged to Quebec to assist the Canonesses in their foundation in New France.  Her father opposed this until he read the accounts of St. Isaac Jouges and his companions, the North American martyrs.  He relented, understanding his daughter's desire to spread the Gospel to a place where it was so evidently absent.  Bl. Catherine desired to bring mercy through the Gospel and mercy though love of neighbor to the New World.  Her community, The Hospital Canonesses, had established the first hospital north of Mexico.  Their legacy of health care continues to this day through the array of hospitals they and other congregations of sisters founded all over Canada and the United States.
Arriving in Quebec on August 19, 1648, this 16 year inspired many through her sacrifices, ardent faith and generous love of neighbor.  She offers all her service for the love of her divine spouse and devoted herself tirelessly to the care of the sick.  Her example was a profound source of consolation for all who knew her.  As she lived, so she died on May 8, 1668 in Quebec at the age of 36.  This amazing woman and her sisters are rightly considered co-founders of the Church in Canada.
16 - Saint Ubald, bishop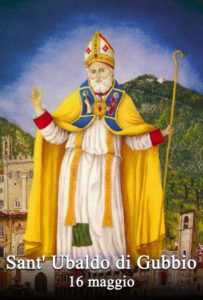 Ubaldo Ballassini was born in Gubbio, Umbria, sometime between 1080 and 1085 to an aristocratic family of German ancestry.  Orphaned as a child, he studied first at the collegiate church of St. Secundus at Fano and then at the cathedral school of Gubbio, where he lived with his uncle, a canon of San Mariano.  However, the common life of the cathedral chapter of canons had fallen into poor state and Ubald wished to return to St. Secundus to pursue his vocation.
However, the new bishop of Gubbio, Giovanni di Lodi, who had been the abbot of Fonte Avellana, a community deeply imbued with the spirit of St. Peter Damian and his call for the primitive apostolic life, had other plans for this young man.  So Ubald instead joined the cathedral chapter of Gubbio in 1105.  He was ordained priest in 1114 and by 1117 held to office of prior.  In 1119  he traveled to Ravenna to get to know the rule of the Canons Regular of Santa Maria in Portu.  Upon his return, he successfully and definitively reformed the chapter between 1120-1122.  It was not an easy task, but with courage and tenacity he triumphed.
A devastating fire in Gubbio in 1125 left much of the city in ruins.  It fell to Ubald to rebuild the cathedral, the abbey and the hospice.  While he was engaged in these activities, the inhabitants of Perugia elected him to be their bishop.  However, he had no desire to become a bishop.  Therefore he sought and obtained papal approval to refuse this honor.  Nevertheless he was not able to avoid this cause for long.  With the death of Bishop Stefano of Gubbio, he was obliged to become bishop.  He governed for the next 31 years, facing numerous challenges with courage and mildness.   As bishop, he remained completely faithful to his way of life as a canon regular.  He died on May 16, 1160, was buried in the cathedral and named co-patron of Gubbio.
21 - Saint Ivo of Chartres, bishop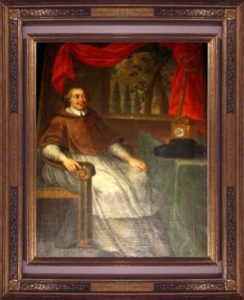 Born at Auteuil in France, he received a good education first in Paris and then an outstanding one in the abbey of Le Bec in Normandy.
He then went to Beauvais where the bishop gave him the mandate to regularize the collegiate church of St. Quentin from which sprung the Canons Regular of St. Quentin.
Ivo himself taught sacred theology to his seminarians, who not only received an excellent formation as canons regular, but also were highly sought after for their scholarly achievements as well.
On account of his leadership and his well-crafted statues, Ivo rose to be the most important reformer of the canons regular in France.  Chosen to be bishop of Chartres in 1090, he carried out his vocation with great zeal for the pastoral care of his people and stood tenaciously by the Holy See and Church.
He published homilies and letters and organized canon law in a systematic manner.
He died in 1116.
25 - Saint Gregory VII, pope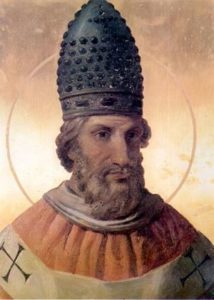 Aldobrand was born around 1028 in Tuscany.  He was brought up in Rome and there he became a monk.  He rendered spectacular service to the papacy through his many successful negotiations and litigations.  He strove mightily to reform the Church and was especially interested in promoting the ancient institution of the canon as a means of giving the clergy of his time a way of life that would strengthen them and give them greater impetus to sanctity.
Aldobrand made an important speech at the First Lateran Council in 1059 that called for the universal extension of the common life to all priests.  Though this radical innovation was not adopted, the council did commend the canonical life and encouraged priests to embrace it.
Aldobrand was elected pope in 1073 in the Basilica Eudoxiana (San Pietro in Vicolo which the Lateran Canons, the most venerable congregation of canons regular, serves today).  As Pope he was able to push ahead even more powerfully with the work of reform.
Above all he struggled against Emperor Henry IV in the Investiture controversies.  What was at stake was nothing less that the right of the Church to carry out Her God-given mission.
Gregory paid for his stalwart defense of the rights of the Church with exile.
He died in exile in Salerno in 1085.
29 - Saint Bona, virgin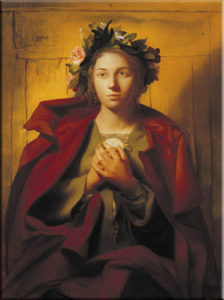 Born in Pisa around 1156, this mystic received many special graces, i.e. visions, gift of reading hearts, etc., from a young age.  As a result, she chose to enclose herself in the church of St. Martin to live the common life with the canons as "devota et soror," i.e. a servant.
She practiced love of neighbor and took a pilgrimage to Jerusalem as well as often going to Rome, to the sanctuary of St. Michael on Monte Gargano and nine times to Santiago de Compostela.
Blessed John XXIII named her patroness of hostesses for Italy.
She died in Pisa on May 29, 1207 and is still venerated in the church of St. Martin
JUNE
6 - Saint Norbert, bishop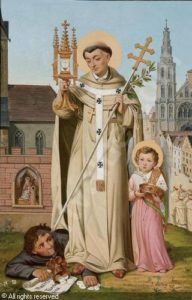 The founder of the Canons Regular of Premontre was born in the duchy of Cleves around the year 1080.  The son of a aristocratic family, he became a canon of Xanten, when he accepted ordination to the sub-diaconate.  This was a career plan and not a vocation for Norbert.  However, as Norbert's life demonstrates, one may enter the service of God with less than honorable intentions and still, on account of grace, become a saint.
Norbert did indeed later undergo an interior conversion that led him to spend three years as a penitent, living near the Benedictine abbey of Siegburg and the canons of Klosterrath, who were part of the Rottenbuch reform.  From there he went to Cologne, where the archbishop ordained him as an itinerant preacher.  The bishop of Laon encouraged Norbert and some of his companions to take up the Rule of St. Augustine and establish a community in Premontre, after which the Premonstratensians are named.  Norbert became the archbishop of Magdeburg in 1126 where he both reformed his diocese and promoted missions to neighboring pagan nations.  He died in 1134.
St. Norbert was only canonized in 1582.  This is the result of a decision made by the canons not to promote the causes of their members.  This came about partly as a rejection of the actions of the monks of Cluny, who strongly promoted the canonization of their members.  In fact it is important to note moreover that for a long time St. Norbert was not even considered the founder of the Premonstratensians, but rather a reformer of the canons, like St. Augustine.  St. Norbert's centrality has emerged in recent centuries.  Earlier he was easily overshadowed by St. Augustine.
15 - Saint Bernard of Mont Joux, religious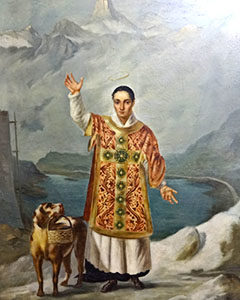 A canon of Aosta, he was quite strict with himself so as to make possible the arduous work of preaching the Gospel throughout the Alpine region.
At the Alpine mountain pass of Mt. Jupiter, he re-founded an abandoned hospice for travelers and a church dedicated to St. Nicholas.
He organized a community of canons to live there, celebrate the Divine Office and carry out a special service of love of neighbor by offering travelers a safe and warm place to rest during their journey over the mountains.
This community is today called the Congregation of SS. Nicholas and Bernard of Mont Joux.
As a a tireless preacher of the Word of God he lived.
He died at Novara in 1081.
25 - Blessed Marie Lhuilier, virgin and martyr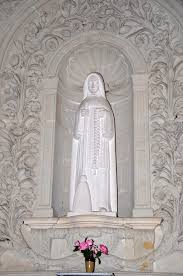 Marie, a devoted lay sister of the Hospital Canonesses of the Mercy of Jesus, was renown for her virtue and zeal for religious life.  She was particularly tender in her care for the sick.  She endured great hardship as a child, being left an orphan at a young age.  Yet she found joy and love in serving God and the sick.  Her hidden sanctity was known only to her fellow canonesses and those whom she served.
However this did not remain so because of the French Revolution.  The revolutionary government at first had moved cautiously against the Church, bidding its time, slowly subverting the Catholic faith and Her children.  When the time was right, violence succeeded the earlier phases of legal persecution and intimidation.  In Laval, where Marie lived, the revolutionary tribunal executed many Catholics including those honored as the Martyrs of Laval (14 priests martyred on January 21, 1794 pictured on the right).  Their deaths were not enough. The violence continued and more died.
For her part, Marie refused to be coerced by the revolutionaries.  Her defiance eventually came to their attention.  Her crime was her refusal to surrender her habit.  They imprisoned her, expecting her to break.  She did not.  Rather she heroically followed the example of the earlier martyrs, remaining steadfast in her fidelity to God and His Church.
Her witness, like that of the first virgin martyrs persecuted and executed by the Roman Empire, proved to be so dangerous to the powers and principalities of her age time that they beheaded her on June 22, 1794.
She was beatified in 1958 with her fellow martyrs of Laval, a group consisting of lay people, religious and priests.
JULY
9 - Saint Jan of Osterwijk, priest and martyr
Jan Lenarts was born in Osterwijk in Brant.  He was given a Christian upbringing by his parents and entered the Order at the Ruggen canonry near Briel, which St. Elizabeth dedicated and which belonged to the Windesheim Congregation.
Well taught in the ways of the canons and careful in his observance, he was sent by the provost to be rector (spiritual director) of the convent of Augustinian canonesses in Gorkum, a task with which he met with great success.
As the Calvinists grew in strength and hatred against the Catholic clergy, Jan — now advanced in years — was caught up in the desire to died as a martyr for the faith.  As Breil was conquered by the Calvinists and they sacked and destroyed the canonry at Ruggen, they took Jan and 18 other priests and religious to the neighboring town of Gorkum where they were incarcerated, tortured and ridiculed.
Since Jan and his companions stood firm in their loyalty to the truth of the Catholic teachings regarding the Holy Eucharist and the primacy of the pope, they were all hanged in one of the few remaining buildings of Ruggen on July 9, 1572.
20 -Saint Thorlak, bishop
Thorlak was born in Iceland in 1133 and became a priest at a young age.  On thereafter did he spend ten years abroad at Paris and Lincoln studying theology.
After his return to Iceland in 1161, he introduced the canons to his homeland and established the first canonry at Thykkviboer.
He served first as prior and then abbot.  In 1178 he was consecrated bishop of Skalholt, but he continued to live as a canon.
He was a fierce combatant and struggled mightily for the reform of the clergy, the independence of the Church and the solemnity of the marriage bond.
Through his great efforts Thorlak built up the Church in Iceland.
He died on December 23, 1193 and Pope John Paul named him patron of Iceland in 1984.
21 - Blessed Gabriel Pergaud, priest and martyr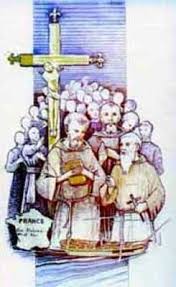 Born in 1752, he entered the Congregation of France and became a priest.  He served in a variety of capacities, the last being as prior of the canonry of the Blessed Virgin Mary at Beaulieu.  When the revolutionary government attempted to force Catholic priests to take the civil oath, Pope Pius VI instructed them to refuse.
Gabriel, a man of faith and conviction, joined other priests and religious in the prisoner barges off the the Atlantic coast of France near Rochefort.
The prisoners suffered horrific living conditions.  Baking under the summer sun, they were forced to stand all day long, had almost nothing to eat and little fresh water to drink.
Moreover all prayer and religious activity was strictly forbidden and severely punished. Already weakened by this inhuman treatment and denied medical treatment by their captors, many of the captives died of contagious diseases.  Gabriel finally died under these brutal circumstances.
In 1995 Pope John Paul II beatified 63 martyrs of the prisoner barges of Rochefort.
AUGUST
2 - Saint Eusebius of Vercelli, bishop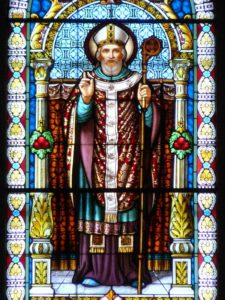 Born in Sardinia at the beginning of the 4th Century, he was born into the rapidly changing world of the late Roman Empire.
As he grew up he saw Christianity go from being an illegal religion to one tolerated, and then the official religion of the empire.
He became a priest of the Church of Rome and was chosen to be the first bishop of his home town of Vercelli.
He evangelized Sardinia and was the first in the West to promote the common life for clergy: he combined the observation of a monastic way of life with the distinctively clerical tasks of care for souls and celebration of the sacred liturgy.  Eusebius gave his priests the common life, which would later be called canons regular and spread throughout the Church.
The Emperor Constantius persecuted him for his loyalty to the Catholic faith and drove him into exile where he greatly suffered.
Returning to Sardinia, he worked tirelessly against the Arians for the restoration of the Catholic faith.
He died in 371.
7 - Saint Juliana of Mont Cornillon, virgin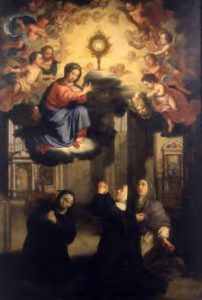 Juliana was born in 1197 in Retinne, not far from Liege.  Orphaned at the age of 15, she was given to the care of the sisters of the convent of Mont-Cornillion.  These sisters led the common life without taking vows and tended to the sick in their hospital, especially those suffering from leprosy.
Juliana joined the community.  It was then that she developed a deep devotion to the Blessed Sacrament and was honored with many supernatural gifts.  These included a recurring vision of a black band cutting across a bright moon.  Later it was revealed to her that this was a metaphor for a flaw in the liturgical cycle: there was no feast dedicated to the Blessed Sacrament.
When she was elected prioress around 1225, she led her community to embrace the full common life as Augustinian  canonesses.  This decision brought her many trials and she faced frequent opposition to her rule.  As for her vision, she was finally in a position to act.  She disclosed the vision to several friends and decided to promote the idea of a new Eucharistic feast.  In this endeavor, she found an ally in John of Lausanne, an Augustinian canon, who was given the task of evaluating the theological merit of such a feast.  It was through him that James Pantaleon, archdeacon of Liege, later Pope Urban IV, learned of this idea.  Meanwhile Juliana's enemies conspired against her, accusing her of embezzling funds from the hospital to support her plan for a new feast.  As a result of this and the opposition that her reforms caused she was forced to flee the monastery.
Thereupon Bishop Robert of Liege intervened, reinstating her and introducing the new feast in 1246.  Her victory was short lived.  When Bishop Robert died later that same year, she was again forced to flee and the popular new feast was suppressed.  She lived her remaining years in exile at Namur and Fosses, where she died on April 5, 1258, separated from her community and apparently unsuccessful in her mission.
However, Juliana did not fail.  Rather her mission was completed according to the mysterious workings of Providence.   In 1261 some of her friends, including St. Eva of Liege, went to visit the new pope, the former archdeacon of Liege, James Pantaleon, on the behalf of the new feast day.  Urban IV recalled Juliana and was likewise impressed with the recent Eucharistic miracles in Bolsena.  So in 1264 Urban IV decided to promulgate the new feast for the entire Church; thus was born the feast of Corpus Christi.
12 - Blessed Maurice Tournay, priest and martyr
Maurice was born into a family of poor farmers known for their faith and love of neighbor in Orsieres in the canton of Wallis, Switzerland, on August 31, 1910.  He entered the Congregation of SS. Nicholas and Bernard of Mont Joux, founded centuries earlier by St. Bernhard and made his solemn profession at the Abbey of Mont Joux on September 7, 1935.  The next year he left for East Asia to serve in the missions.
The congregation had been entrusted with the pastoral care of the border regions between Tibet and China and the missions into Tibet.  It was there that Maurice was to both assist in the proclamation of the Gospel as well as prepare for the priesthood.  The center of the missions was the city of Weisi in China.
On April 24, 1938 Maurice traveled to Hanoi in Vietnam where he was ordained to the priesthood.  Seven years he spent there leading a small seminary.  In 1945 he became pastor of Yerkalo, the only parish in Tibet.  From the start he exposed to the hostility of the Lamas and Buddhist monks, who through lies, insults and violence finally drove him out of the parish and compelled the Tibetan Catholics to renounce their faith.
He tried to secure from the Tibetan government a policy of tolerance and undertook a journey to Lhasa for this purpose.  But the Lamas ambushed him along the way and murdered him on August 11, 1949 near Choula gorge.  He remains rest in Yerkalo.  Pope John Paul II beatified this modern martyr on May 16, 1993.
13 - Blessed Meinard, bishop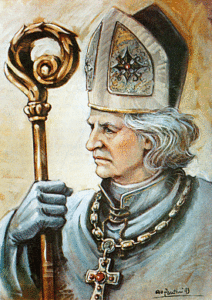 Born in 1130, he entered the canonry of Segeberg in Holstein, which St. Vincelinus had founded to evangelize the Slavs of northern Germany.  After the success of this mission, Meinard went across the Baltic Sea to evangelize the still largely pagan people in Livonia, i.e. modern day Latvia.
Brought there by Lübeck fur merchants, he chose Iskile to settle, a place not far from Riga, which in those days was the capital of Lithuania.  He built a church dedicated to Our Lady and a fort to protect the local people from slave traders.  His missions produced many conversions and much success.  Therefore in 1186 the archbishop of Bremen, Hartwig, ordained him and he became the first bishop of Livonia at Ikskile.  Unlike others, he never resorted to means of coercion to promote the faith and he showed great patience in adversity.  He died in 1196 in Iskile.
Shortly thereafter the pagans attacked the Christians and destroyed much of the Church that Meinard had cultivated.  As a result of this conflict, the diocese was transfered to Riga by Albert of Buxhövden and the saint's relics were transferred to the new see.  While veneration of this saint declined with the rise of Lutheranism in the 16th Century, it has returned in recent times.  In 1993 Pope John Paul approved of the veneration of this 12th Century missionary.
17 - Saint Alypius and Saint Possidius, bishops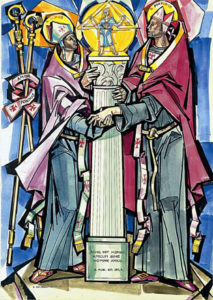 St. Alypius: A friend and teacher of St. Augustine, he led Augustine from the temptations of the world to the precious treasure of chastity and together they were baptized by St. Ambrose.  He followed Augustine back to North Africa and chose with him the "vita communis" or "common life."  He continued to live this way with his clergy when he became bishop of Tagaste.  Alypius rendered outstanding service to the Church in North Africa.  He died in 430, the same year as his dear friend St. Augustine.
St. Possidius: Student and companion of St. Augustine, he embraced the common life in Hippo.  Later he was named bishop of Calama where he immediately organized his own community of priests centered on the cathedral and the bishop's residence.  He zealously emulated the way of life of his teacher, St. Augustine, whose biography he authored.  He also published an index of St. Augustine's works and stood by his friend in every difficulty.  He was driven out of his see by the barbarian Vandals and died in exile.
27 - Saint Monica, mother of our Father Saint Augustine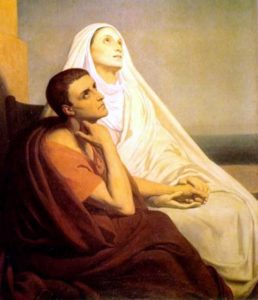 Monica was born in 331 in Tagaste to a Christian family.  Still as a young girl she married Patricius.  Her son, Augustine, caused her great suffering for she longed for his conversion.
She shed innumerable tears and prayed intensely that her son would know her Savior.  She was an example of a true Christian, who deepened her faith through frequent prayer and never gave up on her son or on God.
Moreover she was a model of forgiveness, who did not allow the shabby treatment she received at the hands of her son to poison her love for him.  Her trials ended in joy.
She died happy in Ostia, outside of Rome, knowing that her son had come to faith in Christ and was baptized.
28 - Saint Augustine, bishop and doctor of the Church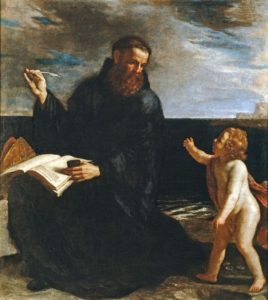 Augustine was born in 354 in Tagaste in the Roman province of North Africa.  After much spiritual wandering during his youth through philosophy and other religions, Augustine embraced the Catholic faith at the Easter Vigil in 387 when he was baptized by St. Ambrose.
He returned home and embraced the common life with some of his friends and companions.  In 395, after already having served as a priest for a number of years, he became the bishop of Hippo.  Shortly after his arrival he established the common life for himself and his clergy at the episcopal residence.  This common life remains to this day the model for the common life of the canons regular.
In addition, Augustine authored three rules for the common life and gave several important homilies on the subject.  These combined with his own example are foundational for the canonical order.
Augustine is rightly known for his numerous and important writings in which he explained the faith of the Church and ably defended that faith against the errors of his day.  He gave himself without reservation to his vocation as shepherd for the 34 years.
He held this apostolic office and served the faithful with tireless zeal, persuasive preaching and pastoral charity.  He died in 430 while the Vandals were besieging Hippo, leaving behind a legacy which continues to endure.
SEPTEMBER
4 - Blessed Martyrs of Paris: John Charles Marie Bernard du Cornillet, John Francis Bonnel of Pradal and Claude Ponse, priests and martyrs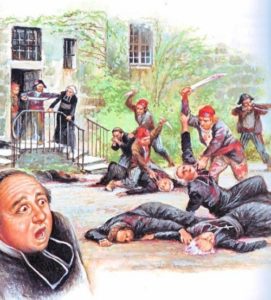 During the French Revolution numerous priests were incarcerated and killed.
While some were executed, many were massacred in mob violence like that pictured on the left,  including these three canons.
The first belonged to theCanons Regular of St. Victor and lived at the abbey of St. Victor where he served as the abbey librarian; the two others were canons of the  Congregation of France.
All three were murdered during the September massacres in 1792.
They had been incarcerated for refusing to take the Civil Oath by which the revolutionary government planned to turn the Catholic priesthood into an instrument of the state.
9 - Saint Peter of Pebrac (or of Chavanon), priest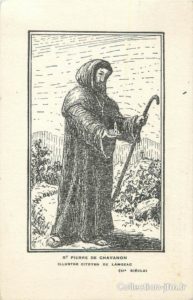 Born at the beginning of the 11th Century in Langeac, France and given a first rate education in the liberal arts, he was ordained a priest and entrusted with the task of preaching.
He was later admitted to the Canonical Order and returned to his home town in 1058.  The first Lateran Synod had just been held a year earlier at which St. Gregory VII, not yet pope but an influential reformer, promoted the regularization of the clergy.
The Synod Fathers agreed to promote this way of life by approbation, not legislation.  Peter and his companions were among many canons, living under earlier rules, such as the ones from the Synod of Aachen in 816, to embrace this reform movement.
In 1060 he and the other canons of Pebrac became Augustinian Canons, adopting the Rule of St. Augustine and giving up private property   Called to lead this community, he was a model for all his fellow canons in his observance and pastoral duties.
Moreover thanks to his excellent leadership, the bishop and local nobles generously patronized the canons.  He died around 1080.
12 - Saint Albert, bishop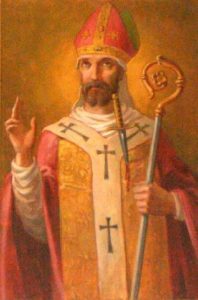 As a young man he joined the Canons Regular of the Holy Cross of Mortara, where St. Guarinus entered the order a few generations earlier.  After his priestly ordination, he was elected prior of the community.
Later he became the bishop of Bobbio briefly and then Vercelli for 20 years, where the earliest known community of canons was founded by St. Eusebius. During his reign he undertook many important missions for the papacy as well as wisely and effectively governing his diocese.  Consequently Innocent III honored Albert with a challenging new assignment: to serve as the Patriarchate of Jerusalem.
Albert was well suited for the task.
Drawing upon talents and diplomatic skill, he successfully navigated the complex and tangled web of Palestinian politics and the various interests that intersected there. Though in title he was the Patriarch of Jerusalem, he never made it to the city of Jerusalem, which remained under Muslim rule.  Rather he resided in Acre from which he carried out his wide ranging activities including the exchanges of prisoners between Christians and Muslims and the composition of the Carmelite rule, which is used to this day.
Albert's death was a violent one in a land marred by violence.
The Master of the Hospital of the Holy Spirit, whom he had reproached for his iniquitous life style, murdered him on September 14, 1214.
17 - Saint Peter Arbues, priest and martyr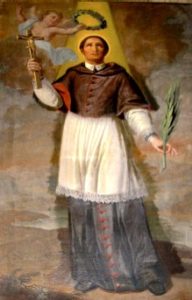 Born near Saragozza in Spain, he completed his studies in theology and law at the Spanish College at the University of Bologna.
Upon his return to Spain, he became a member of the regular canons of the cathedral of Saragozza, one of the many cathedral chapters of regular canons throughout Europe.
Later King Ferdinand entrusted him with the position of provincial inquisitor for the Kingdom of Aragon.
He conducted his work according the most progressive legal procedures of his time.  In this capacity, he strove to eradicate both superstitious practices and heresies.
For accepting this difficult task, he was rewarded with his martyrdom in 1485 for the hatred of the Faith while offering Matins.
26 - Saint Kjeld, priest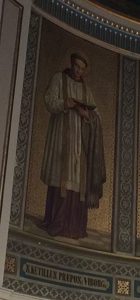 Born into a renowned Danish family in the Jutland peninsula and schooled in the liberal arts, Kjeld sought to dedicate his life to God.
Bishop Eskill of Wiborg invited him to his diocese where he became a priest and entered the canonical order.
Not only was he was given the task of running the cathedral school, where he exerted a great influence, but he also served simultaneously as provost of the chapter where he strove to bring about peace among its leading members.
He also vigorously promoted the evangelization of the Wends, among whom St. Vicelinus and his disciple were likewise working.
He died in 1150.
OCTOBER
3 - Saint Chrodegang, bishop
Born in Belgium, Chrodegang dedicated himself from his youth to his spiritual and scholarly formation in the monastery of St. Trond.  At the court of the Frankish prince Charles Martel, Chrodegang was entrusted with the post of chancellor.
He succeeded St. Boniface as bishop of Metz, where he worked with such zeal that he was called "the pride of the episcopate."  He continued the reforms begun by St. Boniface and gave the canons of his cathedral a rule for the common life, which was based on the Rule of St. Augustine.
Many other bishops adopted Chrodegang's rule and others were subsequently based upon it.  A powerful defender of the rights of the Church, he erected many churches and participated in a number of synods.  His personal life was marked by simplicity and a deep love for the poor.
He died in 766.
10 - Saint John of Bridlington, priest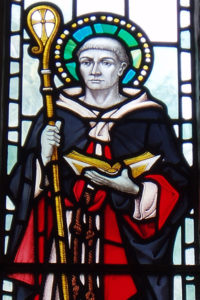 John entered the canonry of St. Mary in Bridlington at the age of 20 after having studied in Oxford for two years and carried out with humility and diligence all the tasks that were entrusted to him, which included novice master, almsgiver, preacher and sub-prior.
Elected prior against will in 1371, the community flourished under his leadership, which was marked by his piety and administrative expertise.
He bore misfortune with tranquility and died in 1379.
He is the last canonized saint before Henry VIII began his persecution of the Catholic Church.
16 - Saint Bertrand of Comminges, bishop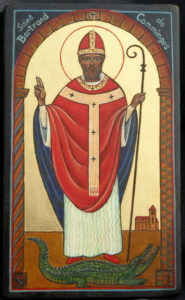 Born in the middle of the 11th century in L'Isle-Jourdain, he undertook a military career before he was finally ordained to the priesthood.
Shortly thereafter he became a canon of the cathedral of Toulouse and was appointed archdeacon.  At the cathedral he embraced the canonical life, which had flourished there since bishop Isarnus had introduced it.
In 1083 he became bishop of Comminges, which was in need of the reform program of Pope Gregory VII.
Once there he rebuilt the long abandoned cathedral and founded a new community of canons regular, who offered the Divine Office and the Holy Eucharist in the cathedral.
He died in 1123.
Due to the deep faith of the people and their gratitude for the favors they received through this saint, they renamed their town "St. Bertrand of Comminges."
26 - Saint Fulk, bishop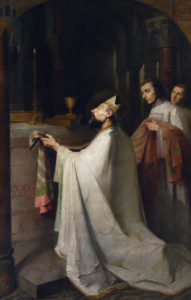 Born in Piacenza around 1164 to a family originally from Ireland, which is the meaning of his family name "Scotus," nothing is known of his birth or childhood.  In 1186 he entered the canons regular at the parish of St. Euphemia, which much later in 1491 joined the Renana Congregation.
Thereafter was sent to Paris to pursue the study of sacred theology.  In 1194 he was obliged to return to Piacenza to take up the office of provost of St. Euphemia.  Bishop Grimerius (1199-1210) depended a great deal on Fulk's assistance and entrusted him with the responsibility of giving the opening discourse at the synod of 1207.  The next year Fulk was made a canon of the cathedral and archpriest.  He was also appointed lecturer of sacred theology at the seminary in Piacenza.
After the Bishop died, Fulk was elected his successor, but his election was never confirmed by Pope Innocent III.  Nevertheless he ran the diocese for six years until finally Pope Honorius III officially consecrated him.  In the same year the electors of Pavia selected Fulk to be their bishop, which he accepted.
As bishop he not only offered the Divine Mysteries and exercised an effective preaching ministry, but also founded numerous charitable institutions including the feeding of the poor and free education of children.  He also persuaded the cathedral clergy of Piacenza to adopt the common life and later as bishop of Pavia promoted the reform of the monastery of  San Pietro in Ciel d'Oro.  Finally St. Fulk defended the Church's liberty against the encrouchment of the civil authorities.
He died on December 16, 1229 and is buried in the cathedral.
NOVEMBER
5 - Saint Gerald (or Gerhard), bishop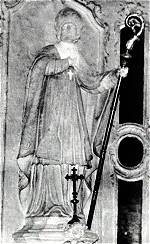 Born in Pusssalicon in France, he was educated in the liberal arts and entered the canonry of St. Mary of Cassian, near Bezeirs.
After his priestly ordination, he offered his fellow canons such as outstanding example that they elected him prior.
Under his direction, the community built a new church, a residence and a hospice.
Selected to the be the bishop of Beziers, he served in this capacity in an impeccable and honorable manner.
He died in 1123.
7 - Saint Israel, priest, Saint Walter, abbot and Saint Theobold, religious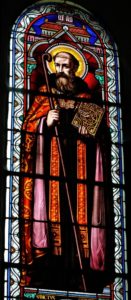 St. Israel
The ancient Benedictine abbey of Le Dorat in France was destroyed by the Normans in 866 and rebuilt in 944 by Bosone the Elder.  The Count invited the canons to take over the abbey.  These were the canons who lived by the Rule of Aachen, which had been so important in reforming the lives of canons in the 9th and 10th Century.  Israel, a famous poet and choirmaster of Le Dorat, was invited by Iduino, the bishop of Limoges, to teach in his episcopal school and become a priest and vicar general.  Israel's lively charity was in evidence during the epidemic of 989-990 and his wise counsel influenced none other than King Robert the Pious. The Archbishop of Rheims, Gilbert, who became Pope Sylvester II (999-1103), made Israel provost of the canonry of St. Julien. He died in 1014.
St. Walter of L'Esterps
Born around 990 in Aquitaine, he entered the abbey of Le Dorat and became an canon living under the Rule of Aachen.    He left the community over a dispute with the abbot and returned to his home town of Confelons.  However his good reputation led the canons of L'Esterps to choose him as their new provost.  He fulfilled his canonical vocation in an exemplary manner manifesting charity towards all, especially the poor.  He died on May 11, 1070.
St. Theobold 
Theobold came from humble origins in the province of Limoges and was educated in Perigueux, both in France.  He joined the abbey of Le Dorat, where he became a canon.  However, though he began the studies for the priesthood, evidently he never finished them and thus never became a priest.  He would spend the entire day in the church in prayer and would only come out to visit the sick and perform other similar works of mercy. On account of his attachment to the church, he was made custodian and sacristan of the church. He spent entire nights in vigils of prayer and penances in his beloved church.  He died a holy death on November 6, 1070.
14 - Saint Lawrence O'Toole, bishop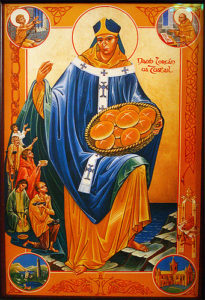 Like St. Malachy before him, St. Lawrence is one of the leading figures in the spread of the canons regular in Ireland.  From a prominent Irish family in Leinster, he spent most of his childhood as a hostage to a rival family, the MacMurroughs.  After two years as a hostage, he went to live in the household of the Archbishop of Glendalough.  When he father arrived to bring him home, he informed him of his decision to enter religious life, which he then did at the ancient monastic settlement at Glendalough.  At the age of 25 he was elected abbot.
Not only did he govern the community well despite much internal opposition to his reform program, but he also relieved a famine that afflicted the region and dealt effectively with bandits.
In 1161, the 33 year abbot became the Archbishop of Dublin.  His first priority was the reform of the clergy and one of his first acts was to don the canonical habit and lived the common life with the canons of his cathedral to the fullest extent possible.  He chose the rule from the Canons Regular of Arrouaise, which at that time enjoyed widespread adherence in Ireland.  He was a model bishop, combining love for the poor with the solemn and dignified offering of the liturgy.  Though an excellent administer, he was a tireless preacher, an office he valued as a bishop and was known to be approached to all.
Beginning in 1170 Lawrence served frequently as a mediator between the Irish princes and the Anglo-Norman invaders.  The opportunity for this invasion was presented by the same man who had taken the saint as a hostage as a boy, the chieftain Dermot MacMurrough.  The routing of the Irish army and the subjugation of Ireland to the Anglo-Normans meant further challenges for this gift man.  In 1175 Lawrence was instrument in brokering a peace between the Irish and English kings.  He took this chance to visit St. Thomas a Becket at Canterbury, where he survived an assassination attempt just as he was preparing to offer Mass.  He successfully interceded for the life of his would-be assassin and the Henry II spared him.
After he returned from the Third Lateran Council in 1179, he convoked the synod of Clonfert to deal with numerous abuses in the Church in Ireland, problems which St. Malachy had faced some fifty year earlier.  Lawrence exercised the new authority given to him by the Holy Father, much to the irritation of Henry II, who feared another Thomas a Becket might be in the offing.  Lawrence, on another diplomatic mission for the Irish King, followed Henry to Normandy, where his health finally gave out and he died on November 14, 1180.
26 - Blessed Pontius, abbé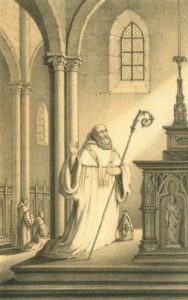 Born in Savoy early in the 12th Century, he entered the canonical order at Abondance, which was joined to the canons at St. Maurice d'Agaunum.
From there he was sent to found a new community at Sixt in 1144, which was raised to the dignity of a abbey by Adrian IV in 1155.
He led a holy life and died in 1178, being well remembered centuries later.
In fact St. Francis de Sales was particularly devoted to him and asked for his intercession while he served as Bishop of Annecy.
DECEMBER
2 - Blessed Jan van Ruysbroeck, priest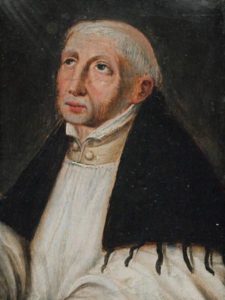 Jan was born in Ruysbroeck in Brabant in 1293.  It seems that most important person in Jan's childhood, was not his father, about whom almost nothing known or his mother, who later became a Beguine, but his uncle, Jan Hinckaert, a wealthy and worldly  canon of St. Gudula, a collegiate church in Brussels.  There Rusybroeck received his education and decided as a young man to become a priest.  He was ordained in 1317 at the age of 24 and became a curate at St. Gedula.  Ten year later, his uncle underwent a profound conversion.  He desired to dedicated himself to the pursuit of holiness.
In this he was joined by Rusybroeck and a young canon, Francis de Coundenberg.  At first they attempted to live a simple common life near St. Gedula.  It failed.
So, he, his uncle and Franz left Brussels to found what shortly became the Congregation of the Canons Regular of Groenendaal ("Green Valley") in 1343.  The duke of Brabant, who was a friend of de Coundenberg, gave them a hermitage on the condition that they pray for his beloved deceased wife.  For 40 years Rusybroeck  lived there, serving as the prior for many of those years.  He undertook his literary activities throughout this period as well as teaching and directing many in the spiritual life.
Moreover he took great interest in the formation of novices and younger members of his flourishing community.  His renown as a mystic attracted many visitors including Gerhard Groote, the founder of the influential Devotio Moderna movement.  In his final years he received many special graces and enjoyed deep contemplative prayer.  In 1381 he died at 89 years old, spending 64 of them as a faithful priest of Jesus Christ.
Later the Groenendaal Congregation joined the Canons Regular of the Congregation of Windesheim, which was founded by some of Groote's followers.
4 - Blessed Archangelus Canetoli, priest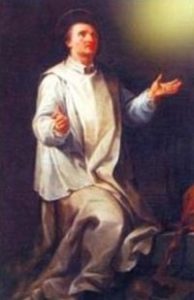 Archangelus was born in 1460 into a violent world of murder and rivalry that characterized the Bologna of his day.  His own father and brothers were murdered while he was still an infant.  In 1484 he entered the Canons Regular of the Congregation of the Most Holy Savior in Bologna where he served as guest master, even welcoming those who had murdered his father and brothers.
He was ordained a priest and in 1498 moved to a more strict community of canons at Sant' Ambrogio near Gubbio.  He spent the next twelve years maturing in wisdom and holiness, which was seen by all who came into contact with him and a constant source of hope and encourage in difficult times.  One witness said of him that "His sanctity is like a light the shines always and everywhere, which is even more beautiful and profound because the shadows in which it appears."
So as Archangelus' renown for sanctity grew, he was called up to leave his beloved Sant' Ambrogio and serve where he was needed.  Rich and poor alike besought him and his counsel.
Likewise was he powerful preacher and he even predicted the election of Leo X.  When he was offered the office of archbishop of Florence, he strongly refused — it is the subject of the accompanying picture– and he died in 1513, known throughout central Italy as the "Apostle of the love of neighbor."
9 - Saint Peter Fourier, priest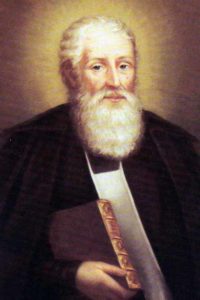 Peter Fourier was born in Mirecourt in Lorraine and made his solemn profession as a canon regular in the abbey of Chaumousey.  After his priestly ordination he was given the care of the poor little parish of Mattaincourt where his distinguished himself through his pastoral zeal and love for God and his people.
Together with Bl. Alexia de Clerc they founded in 1597 the Congregation of the Canonesses of Our Lady, who dedicated themselves to the education and formation of girls as well as the praise of God through the sacred liturgy and Divine Office.  St. Peter proved to be a great and farsighted pedagogue.  Moreover, he reformed the communities of canons regular throughout Lorraine and founded the Congregation of the Canons Regular of Our Savior.  For political reasons he was exiled to Gray in Burgundy.
There he dedicated himself to the care of plague victims.
He died on December 9, 1640.
Like St. Vincent de Paul, he is a sign of the flowering of sanctity that occurred in France in the generation born after the reforms of the Council of Trent.
11 - Saint Vincelinus, bishop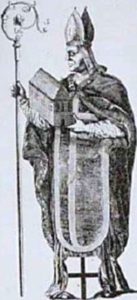 Around 1090 Vicelinus was born in Hameln, northern Germany to an aristocratic family.  His parents died while he was still a boy and he was raised by Oheim Ludolf, a priest in a neighboring village.  Later he worked as a teacher in Paderborn and then at the cathedral school in Bremen for four years.  In 1122 he traveled to Laon in France, attracted by the prospects of studying the cutting edge theology of Peter Abelard and the biblical interpretation of Anselm and Radulph.  Laon however was not only home to new ideas, but  also to a community to an influential refromers, the Canons Regular of Premontre, founded by St. Norbert.
Evidently the influence of the Premonstratensians proved stronger than that of the new ideas because upon completing his scholarly sojourn to France in 1126, Vicelinus decided to travel to Madgeburg, in order to see St. Norbert, who at that time was the archbishop.  He hoped that St. Norbert would ordain him a priest and he could begin missionary work among the Slavs.  For one reason or another this plan failed and so Vicelinus returned to Bremen, where Bishop Albero ordained him.  Thereupon he and two other canons, Rudolph of Hildesheim and Ludolph of Verden, were sent to evangelize the Wends, a Slavic people living alone the Baltic coast of Germany.
Political instability delayed their mission initially, but before long he founded an Augustinian canonry at the new cathedral of Neumünster in 1127.  After much hard work and many set backs, Vicelinus was able to found a second canonry at Segeberg in 1134.  This canonry was right on the border between the Wends and Germans.  From there he was able to undertake three years of preaching missions.
As tensions mounted between the Wends and the Germans, especially with appearance of colonists from Saxony and the Netherlands, violence broke out, ending with the defeat of the Wends.  The victorious Germans imposed Christianity on the Wends as one of the terms for peace.  However, Vicelinus refused to use forced conversions and he continued to work hard to convert the Wends through holiness of life and preaching.  His example led the canons to likewise evangelize by word and example.  Bl. Volker of Segeberg († martyr 1132) and Bl. Dietmar of Neumünster († 1152) are a testimony to the holy example that Vicelinus gave to his fellow canons.
As a result of the victory over the Wends and the successful mission, three diocese were refounded (Oldenburg, Mecklenburg and Ratzenburg) and Vicelinus became bishop of Oldenburg in 1150.  He did not remain long, but returned to Neumünster, the diocese he founded and died there in 1154.
12 - Blessed Hartmann, bishop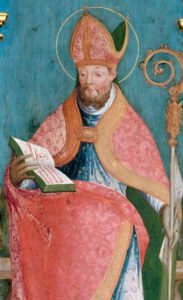 Born in Passau, in Bavaria, he was educated by the canons and became a Canon Regular of St. Nikola, which St. Altmann had founded in 1067 as one of the earliest houses of regular canons in Germany.  The next major wave of refrom came under Bishop Konrad of Salzburg, who introduced the canons to other houses throughout his diocese.  He appointed Bl. Hartmann the dean of his cathedral chapter in to regularize his clergy, i.e. make them canons "regular" living under the Rule of St. Augustine in 1122.  He then went on to become the provost of the canonry in Herrenchiemsee from 1128 until 1133 where he introduced the Augustinian rule.
His next assignment came at the request of the Margrave of Austria, St. Leopold.  The pious ruler had founded a secular canonry in 1114 and had subsequently decided to turn it over to the canons regular.  Thereupon Bl. Hartmann arrived at Stift Klosterneuburg with a contingent of canons regular from three houses and began the common live.  He served at as the first regular provost of the Stift Klosterneuburg from 1133 until 1140.   Wherever he worked, he succeeded through his virtues and prudence.
In 1140 he became Bishop of Brixen, in South Tyrol.  Shortly after his arrival in Brixen he founded near the city a  new community of canons regular, Neu Stift ("new foundation"), and throughout his life, though he enjoyed good relations with emperor, he remained a faithful supporter of the papacy during a time of strife between the emperor and the pope.
He died on December 23, 1164.