The Spirituality of the Canons Regular of the Lateran
The name we bear reveals and reminds us of our own particular spirituality:
We are first and foremost Canons, meaning priests at the service of a diocese – of its bishop and of its faithful. Practically speaking, this takes the form of running parishes, places of pilgrimage and/or schools, and at the same time, we also like our monasteries to be places of meeting and resourcing at a diocesan level.
The fact that our Congregation, on several occasions, served the Pope's cathedral – the basilica of St. John Lateran in Rome – links us in a special way to the Church and to the successor of the Apostles!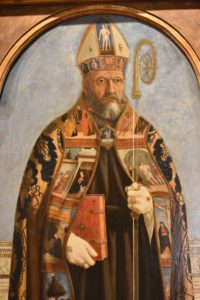 But we are also Regular, meaning priests who live a communal life under a rule – that of Saint Augustine, bishop of Hippo (345-453) – and common constitutions. Fortified by the example of the first Christians, gathered around Mary, the Mother of our Saviour, and the Apostles, who "had everything in common" (Ac 4:32) and "devoted themselves to the communal life, to the breaking of the bread and to the prayers" (Ac 2:42), we live under the auspices of "unity in charity". Our communal life has a strong community dimension, especially on a liturgical level, notably by the solemn Divine Office prayed in common.
Canons Regular: active and contemplative, turned towards God and towards the world, an ancient and current ideal of the Christian life and the priesthood.